Ideal Scaffolding in London
Ideal Scaffolding London have been providing expert scaffolding solutions for commercial and residential properties throughout London and the surrounding areas for over 30 years.
Because of our dedication to offering a second to none service, our clients return to use our experienced advice and high standards of workmanship throughout the scaffolding process. We are your first choice for scaffolders in London.
Lets make it IDEAL
Ideal Scaffolding offer a high quality scaffolding service for any size project in London.
We provide expertise for all our projects, including new builds.
We take care that our scaffolding is safe and secure and we actively work to prevent any damage that scaffolding work can produce.
Contact us
To contact Ideal Scaffolding for a free quotation or for expert advice. We can discuss the range of services that we can offer you.
Call: 020 8293 0456
Alternatively, you can complete our contact form and we shall be pleased to assist you with your enquiry.
Professional Scaffolders
Our mission is to provide a safe and professional service to all our customers and we are committed to providing the highest standards of customer satisfaction. Contact us today for all your scaffolding needs in the London area.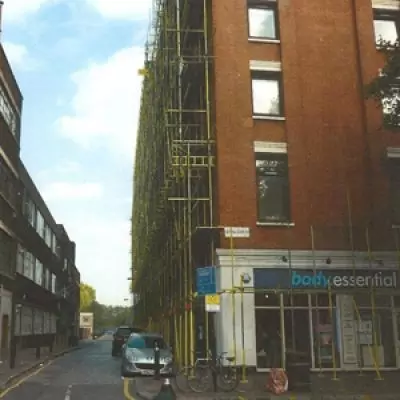 Contacting Ideal Scaffolding
If you require a professional team of scaffolders in the London area with a proven track record of delivering a fast and reliable service whilst remaining committed to the highest standards of quality and safety, then Ideal Scaffolding is the first choice scaffolders in London. Contact us for information about Tower Blocks Scaffolding, Raking Shore Scaffolding and Scaffolding for New Builds in London.
If you need to access an area of works we can get you there safely and comply to all regulations. Our Safety Policy is "Do it right the first time where ever the customer wants it." Wherever our customer wants the scaffolding placed, that's the "Ideal". Ideal Scaffolding are second to none for London Scaffolding services.